Training from UNIC Academy: "HR compliance from recruitment to dismissal"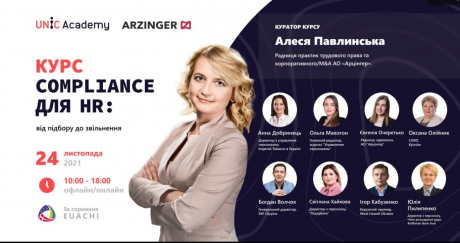 HR directors and executives of large Ukrainian and foreign companies (Ward Howell Ukraine, Arzinger, Imperial Tobacco Ukraine, SKF Ukraine, Raiffeisen Bank, Oschadbank) and the Business Integrity Academy invite you to attend a one-day practical course on HR compliance on November 24, 2021, under the supervision of Arzinger Advisor Alesya Pavlynska.
Course purpose:
- provide participants with knowledge of key HR compliance rules, policies, and procedures.
- to share practical cases, to help to avoid typically mistakes, to acquaint with the best practices.
Target audience:
specialists, heads of personnel management departments, heads of companies, risk and legal divisions representatives of companies.
During the course we will talk about:
Strategies for recruitment and employment:
Successful strategies, techniques, and methods of personnel selection and employment based on the best practices.
Compliance with the daily work of employees:
Tips for building and maintaining a compliance system when working with staff. Dealing with conflicts of interest and counteraction of corruption. Pitfalls in working with staff.
Interaction of HR and compliance:
Secrets of building an effective system of interaction of HR functions and compliance in the company. The value of "tone from above".
Retaining of the best employees:
Effective methods of retaining the best employees, following the compliance standards when applying incentives.
An overview of real cases and the best practices in applying dismissal strategies. Internal investigations as part of HR compliance. Former employees as ambassadors of the employer's brand.
Registration and participation details at https://goo.su/8Wmy