FLEMING CONFERENCE ON CORPORATE COMPLIANCE & TRANSPARENCY IN LIFE SCIENCES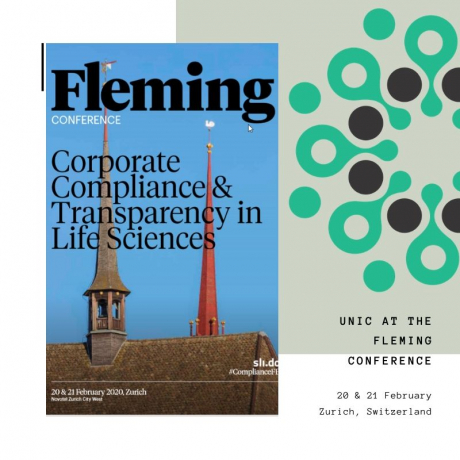 The Corporate Compliance & Transparency in Life Sciences took place in Zurich at the end of February. Gayana Karakashyan, Head of Secretariat of the Ukrainian Network of Integrity and Compliance, and Borys Danevych, partner at Danevych.Law, a member of UNIC, took part in the conference and are happy to share their takeaways on key trends in life sciences (Pharma and medical devices) compliance:
1. Technologies are applied more and more to ensure compliance, automate assessments and due diligence. Tech companies that specialize in the development and support of compliance tech products already form a significant sub-sector.
2. Privacy rules and GDPR compliance became one of the key areas of focus for many life sciences companies, most of all in the clinical trials area, but not only. There are many open questions in GDPR compliance sphere, where different governmental bodies responsible for GDPR at the national level propose different views on the same matters.
3. GDPR affects compliance instruments, most of all - interactions with whistleblowers, whose privacy/anonymity is one of the biggest challenges for international companies. On the one hand, it is always beneficial for the purpose of in-depth investigations of the reported compliance cases, to have a follow up with the whistleblower. On the other hand, more and more regulators recommend the anonymity of the whistleblowers as the golden standard.
4. The role of Codes of Ethics adopted by international associations and federations in pharmaceutical (including IFPMA, Efpia) and medical devices (like MedTech Europe) increases.
5. Although for many developed countries the issues of hardcore corruption become less and less visible, it is not the case for international companies originating from such countries: the recent examples of corruption investigations, self-reporting and multimillion settlements between the companies and law enforcement/controlling agencies illustrate the scale of compliance violations.
6. Ukraine and neighboring countries remain a challenging, but promising region for the international life sciences companies, which monitor compliance developments in the countries carefully.