We continue the series of publications on the occasion of Anti-Corruption Day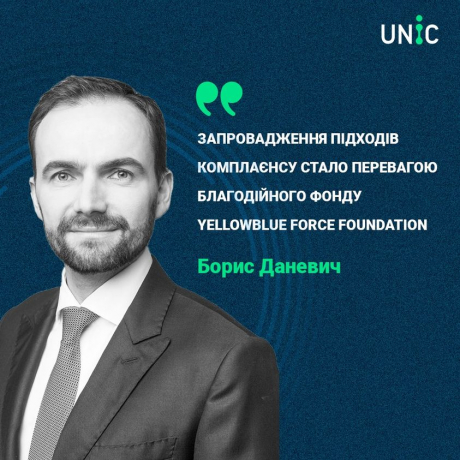 We continue the series of publications on the occasion of Anti-Corruption Day. Today the hero of the column is Borys Danevich, partner of CMS Cameron McKenna Nabarro Olswang - Ukraine, UNIC Committee member, sponsor of the international volunteer organization Yellowblue Force Foundation (YBF), who shared the basics of its creation and functioning in war conditions:
«For our foundation's work, the fight against corruption is an objective opportunity that we use because we work in accordance with compliance requirements: our team has gone through a rather difficult path of fully registering the initiative, and we work in accordance with the legislation requirements of various countries, as we are registered in Poland and Ukraine, we control the issue of the calculations correctness and the paying taxes propriety by our counterparties and stakeholders with whom we interact, draw up detailed documents that concern, among other things, integrity, and compliance. How did this even become possible? With the beginning of the war in February-March, many people wanted to help the army, refugees, displaced persons, or other categories of the population as quickly as possible. And we also wanted to do it as soon as possible at the beginning, so we came to this approach, namely, the creation of a properly organized, registered, transparent charity organization because most of the people who joined the initiative come from international companies or non-governmental organizations for which there is the norm of compliance approaches. Therefore, it was not a problem for us.
Moreover, it became our advantage. Currently, we can talk to our donors and partners about the fact that our organization works transparently and in accordance with international standards, and this gives them more confidence in their eyes. Such an approach is also helpful for Ukraine in general.