Panel discussion: «Сompliance in public-private partnership projects»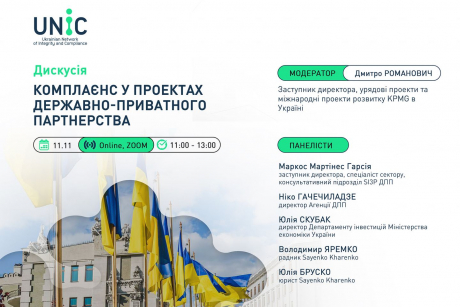 Representatives of Ukrainian companies, government agencies, and international organizations will discuss the role of compliance in public-private partnership projects.
Questions to be discussed:
- The anti-corruption component of public-private partnership (PPP) projects.
- Competition in PPP projects and criteria for selection of garlic.
- The role of the integrity advisor during the competitive selection of participants.
- What role does the availability of effective compliance at PPP member enterprises for investment partners/donors play in deciding to lend/finance PPP projects?
Moderator:
Dmytro Romanovych, Deputy Director, Government Projects and KPMG International Development Projects in Ukraine
Panelists:
- Marcos Martinez Garcia, Associate Director, Sector Specialist, SI3P PPP Advisory Unit
- Niko Gachechiladze, Director of the PPP Agency
- Yulia Skubak, Director of the Investment Department of the Ministry of Economy of Ukraine
- Volodymyr Yaremko, Counsel, Sayenko Kharenko
- Yuliia Brusko, Associate, Sayenko Kharenko
November 11, 11 a.m. – 1 p.m.
Format: (offline)
English and Ukrainian translations will be available during the event.
Please register for the event by following the link: https://cutt.ly/hR7WE4k