Online-event: "Environmental Compliance - Challenges in Ukraine, First Cases"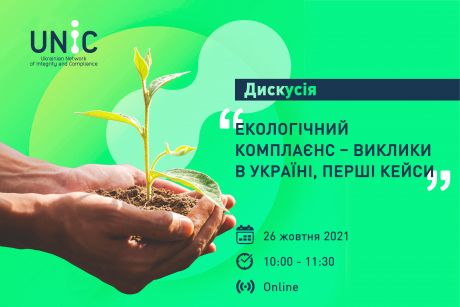 Representatives of Danone, Greencubator, Kinstellar, InAgro will talk about their experience of environmental compliance and impact on business.
Register for the online discussion "Environmental compliance - challenges in Ukraine, the first cases": https://bit.ly/2Zg7HL1
Moderator: Olena Kuchynska, Kinstellar
Speakers:
Olexandra Navrotska, Danone
Olga Semkiv, Environmental Ombudsman, ArcelorMittal Kryvyi Rih (TBC)
Roman Zinchenko, Greencubator
Ganna Khyzha, Agrofusion
Representatives of the Ministry of Environmental Protection and Natural Resources of Ukraine
Questions for discussion:
§ international standards of eco-compliance that will be useful for implementation by Ukrainian producers/businesses;
§ national legal requirements for doing business in Ukraine expected changes in regulation;
§ extended producer responsibility initiative — what it is, why companies are joining, what will help change how you can join;
§ launch and operation of various eco-startups — opportunities for business development and investment for Ukrainian "green" startups, social companies, innovators in the field of sustainable development, briefly about existing startups;
§ environmental strategies, environmental policies, and best practices of private companies.
The event will be held as a panel discussion with short presentations followed by a discussion and questions/answers from the audience.
This is one of the first events within the Business Integrity Month 2021, which will last until the end of November.
Follow the following events on our Facebook page: https: https://www.facebook.com/UNIC2017