Project "Making Clean Business a Norm", 2018-2019 (MATRA)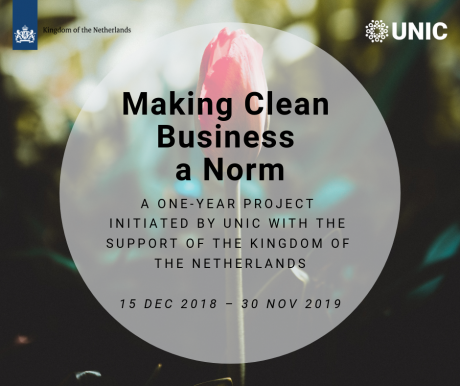 In October 2017, UNIC members adopted their memorandum and governing structure, started implementation of their work programme, including methodology for external evaluation and certification inspired by the ISO 37001.
UNIC membership spreads, more businesses refuse to engage in corruption and the vicious circle of corrupt behaviour can be broken in more places.
In December 2018, UNIC initiated a one-year Project "Making Clean Business a Norm" aimed to reduce corruption in the private sector, promote integrity practices and improve business climate of Ukraine.
The Project will work to achieve its goal by pursuing two main objectives:
to promote doing clean business sustainably
to build effective dialogue between the government and business, and ensure active involvement of business in state policy making in the area of anti-corruption.
We would like to thank our partners for their support with the implementation of the project: Embassy of the Netherlands in Ukraine and OECD.
Description of the project with its expected results is available at: https://bit.ly/2CE3a5P