Cybersecurity of business during the war: persevere and protect.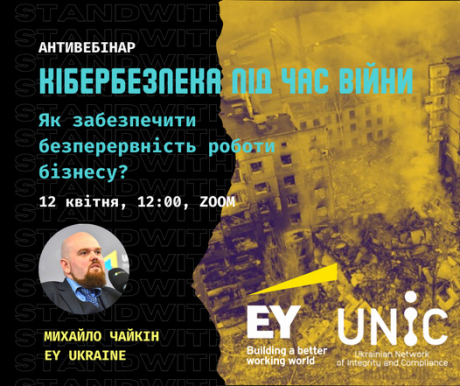 Cybersecurity of business during the war: persevere and protect
#Sustainable_Business_InWar_Conditions
Since the beginning of the orc invasion, Ukraine's cyberspace has also become an arena of hostilities. According to the State Special Service, mass DDoS attacks on Ukrainian resources began on February 15. Since then, Ukraine has suffered about 2,800 attacks.
On Wednesday, April 12, we invite you to join the ZOOM-meeting, where we will discuss current issues of Ukrainian cyberspace:
1. Why are business and the public sector not ready for cyber warfare?
2. Which sectors of the economy and businesses are most vulnerable to cyber attacks in war?
3. Business continuity, capacity reservation and disaster resilience - maybe it's finally worth paying attention to?
4. You don't have a cybersecurity feature - what to do?
5. Rapid migration to the cloud - who can and where?
WHEN: April 12, 12:00 p.m.
Speaker: Mykhailo Chaikin, International Cybersecurity Consultant (EY Ukraine)
REGISTRATION at the link:
https://forms.gle/y7uxNq2uEMBRddLG7
Video recording and live broadcast will be available here - on the UNIC FB page.
You can always find all the videos and subscribe to the new ones on the Youtube page of the Network: https://www.youtube.com/channel/UCfMNFZtK-Q8Ax0HJbxVy7og
Take care of yourself and your family!
Glory to Ukraine
#Sustainable_Business_InWar_Conditions #UNIC #economy_Ukraine #WarInUkraine #compliance #integrity #compliance #StandWithUkraine