IV International Compliance Forum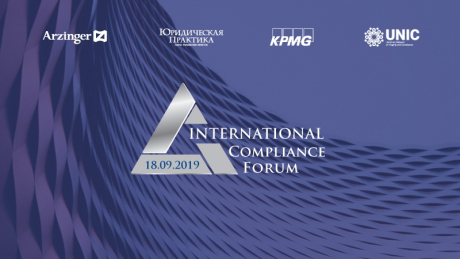 The compliance policy and procedures, options for business to overcome corruption in Ukraine and other sensitive issues will be possible to discuss at the IV International Compliance Forum, which will be held on 18 September 2019 at Premier Palace Hotel in Kyiv. The forum is organized by Yuridicheskaya Practika Weekly and, second year in a row, is supported by the UNIC. We are also glad to announce that such UNIC members as KPMG Law and Arzinger are a general and an expert partners respectively.
UNIC members are entitled a 10% discount by indicating "a UNIC member" in the payment field of the registration form.
The Agenda of the Forum and registration are available at: https://pravo.ua/event/compliance2019/
Date: 18 September 2019, Wednesday
Time: 09.00 – 18.00
Venue: Premier Palace Hotel (T. Shevchenko Boulevard / Pushkinskaya Street, 5-7 / 29, Kyiv)
The Forum will raise such topics to a discussion:
Options for business to overcome corruption in Ukraine
Compliance policy and procedures in Ukraine
Sector compliance features
Compliance of the future
Contacts:
Natalia Bulko, tickets sale, (067) 238-83-08, n.bulko@pravo.ua
Mariana Skoruk, event manager, (067) 292-38-72, m.skoruk@pravo.ua
Oles Evteev, forum coordinator, (097) 753-72-96, o.evteev@pravo.ua