III International Corporate Directors Forum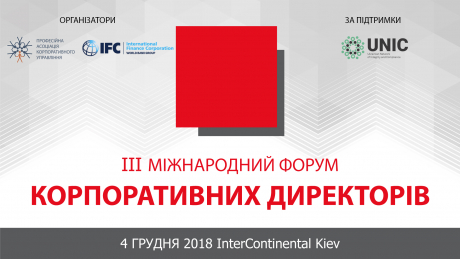 On 4 December 2018, III International Corporate Directors Forum will take place. Third year in a row the Professional Association of Corporate Governance conducts the event.
We are delighted to support the forum this year and to be among the leaders and like-minded professionals in the area of corporate governance.
More details about the agenda of the event: www.corporatedirectorsforum.cgpa.com.ua, www.cgpa.com.ua and www.eventenvoy.com.ua
Registration is at: https://goo.gl/z4Mspu
UNIC members are entitled 10% discount. To receive more information on the registration and discount please contact Iryna Bilyachenko or Mayia Shokalo: (044) 22-88-759, 278-12-52, info@cgpa.com.ua.