GOLAW Seminar. Business Protection: Why It Can't Wait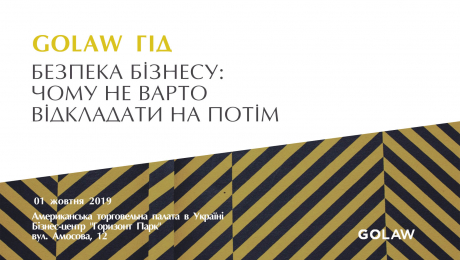 Continuous development and economic growth are the main goals of any business. However, even the most detailed and successful strategies can be interfered by unfair actions of competitors and even own employees. During GOLAW seminar "Business Protection: Why It Can't Wait", we will talk about how to prevent fraud with your financial resources, corruption schemes, and identify confidential information leakage channels. Speaker of the event - Ihor Vinnytskyi, Counsel at GOLAW, Head of Business Protection Practice with years of experience in economic security. He will provide real-life examples of internal corporate investigations and the search for stolen assets.
In particular, we will discuss:
prevention of fraud with financial resources, theft of resources and unfair competition;
verification of business reputation of clients, counterparties, partners: the accuracy and relevance of the data provided, the reality of indicators of financial and economic activity, signs of dubious activity, suspicious activity, "sanction" risks;
search and establishment of assets that have been illegally withdrawn from the property, lost or removed and not returned as a result of the illegal actions of law enforcement, control and other state bodies;
detection of leakage channels of information that is confidential or can be considered as a trade secret.
Join us today!
You can register at http://bit.ly/2m1GuHX
Date: 1 October 2019
Time: 10 am – 12 pm (registration starts at 9.30 am)
Location: American Chamber of Commerce in Ukraine (Horizon Park Business Center, 12 Amosova Street)
Participation is free of charge.
Please note we will send you a confirmation e-mail and further instructions after you have registered.
See you!