GOLAW Webinar | Threats to Business From Insiders and Outsiders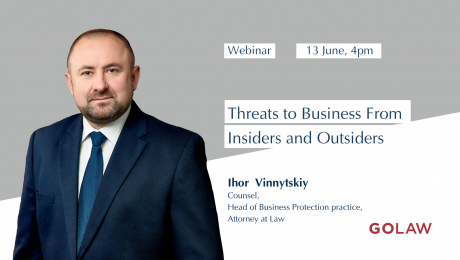 Date and time: 13 June, 4pm
Language: Ukrainian
Participation is free of charge
Corporate security and audit of information security system? Arranging business security is a challenging mission covering raft of measures and in-depth development of all relevant frameworks. GOLAW Counsel, Head of Business Protection practice Ihor Vinnytskyi will explain how to set up your business protection system and early prevent possible risks arising both from own employees' unfair actions and on the part of competitors.
Talking points:
planning, setting up and implementing the raft of measures focused on identifying of and preventing from corruption schemes, hidden financial transactions or asset transactions, confidential or commercially sensitive information leakage or wiretapping as well as from other circumstances that may result in company's material loss or hurt the corporate image;
background and business reputation check of enterprise personnel and job applicants;
analysis of external and internal risks to business information security;
auditing of information security system to identify security gaps and factors potentially leading to unauthorized access to digital information assets and information leakage;
setting up and implementing measures to improve existing information security system.
You can register at the link.
You will receive a confirmation e-mail and further instructions after your registration.
All materials used during the webinar will be emailed to you after the event.
We look forward to your participation in the webinar!