Remote work, working from home and electronic sick lists: what has changed for workers and employers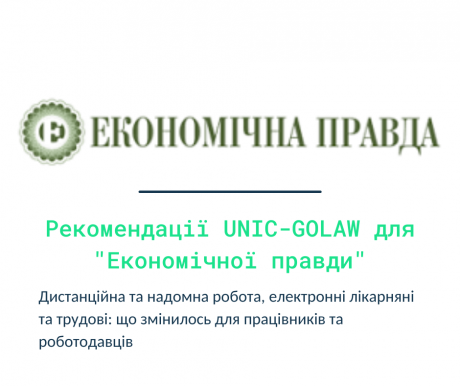 Latest changes in labor legislation that you need to know. According to the results of the Digest, the company member of the Ukrainian Network of Integrity and Compliance GOLAW has prepared recommendations on labor compliance for the publication Ekonomichna Pravda.
The article provides detailed explanations and recommendations for employers on "remote work" and "working from home," electronic work record books, electronic sick lists, changes related to quarantine.
Authors of recommendations:
Kateryna Manoylenko, Partner, Head of Litigation and Dispute Resolution practice, Attorney at law
Kateryna Tsvetkova, Counsel, Attorney at law
Nataliia Matviichuk, Associate, Attorney at law
Full text of the Business Integrity Digest №24 at the link:
Article at the link: