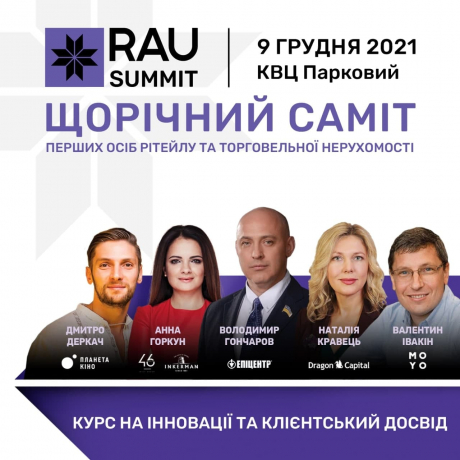 On December 9, the annual final event of the Year of Trade and Development - RAU Summit 2021 will take place at the Parkovy CEC. The summit will be dedicated to innovation and customer experience, as retail and development are among the first to transform and introduce innovations.
Organizer - Retail Association of Ukraine
Among the speakers:
Volodymyr Goncharov, Director of Retail, Epicenter K LLC.
Anna Gorkun, owner and CEO of 46 Parallel Wine Group, CEO of Inkerman Ukraine.
Maxim Gavryushin, Chief Operating Officer of Budhouse Group.
Dmytro Derkach, co-owner of Planeta Kino.
Marianna Samsonova, CEO, and Co-founder of USUPSO Ukraine.
Renata Jakubcheniene, CEO of BC and Retroville mall.
Natalia Kravets, Commercial Director of Dragon Capital Property Management.
Daria Zavadska, Commercial Director of Ocean Plaza.
Yulia Shchaslyva, General Director of Respublika Park.
Valentin Ivakin, General Director of MOYO.
Tickets
https://summit.rau.ua?utm_campaign=summit21&utm_promo=social