Corruption Bulletin, Issue 1, Spring 2019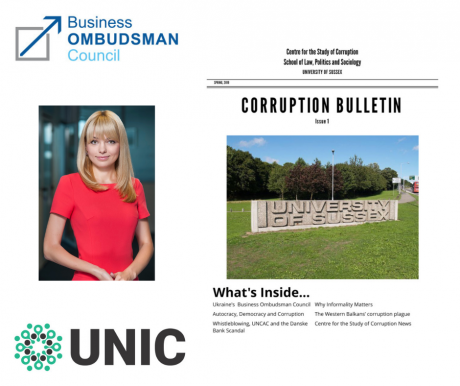 Tetiana Kheruvimova, Investigator at Business Ombudsman Council (the BOC) and a member of UNIC Expert Group, introduced operation of Business Ombudsman Council and the history of and reasoning behind the launch of UNIC in 2017 to the Centre for the Study of Corruption at the University of Sussex.
"Acknowledging the need for substantial efforts to address corruption and the unfair treatment to business to advance economic growth and expressing their support to anti-corruption efforts, the BOC initiated launching of the Ukrainian Network of Integrity and Compliance (UNIC), the brand-new anti-corruption collective action in Ukraine. The notion of the collective action denies the old famous saying, which is "divide and conquer". Today an ethical business, especially in Eastern Europe, cannot allow themselves to be divided."
Read the full Corruption Bulletin at the link: http://bit.do/ePAr6