Compliance life hacks: how to manage reputational risks of a business?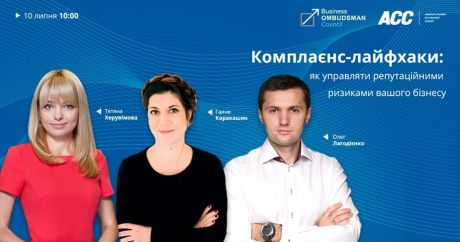 The Business Ombudsman Council in Ukraine (BOC) and the American Chamber of Commerce in Ukraine (ACC) launches a series of educational events with the participaton of BOC's investigators.
We are glad to be included to one of the seminars, among the speakers of which are: Tetiana Kheruvimova, Investigator at BOC, Gaiane Karakashian, Head of the UNIC Secretariat, and Oleg Lagodiyenko, Co-founder at Ethicontrol.
Date: 10 July 2019, Wednesday
Time: 10.00 - 11.30
Location: ACC offices (12 Amosova Street, 15th floor, Horizon Park BC)
Participation is free of charge upon prior registration at http://bit.ly/2wOtTua.
Please find more details below on the event's page at the link.