UNIC announces the first webinar of Network's summer series "Wartime Compliance. Task Prioritization"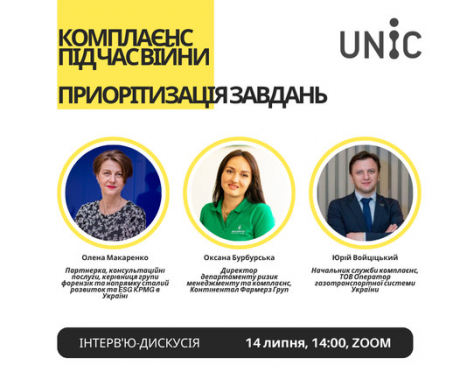 UNIC renews its Wartime Webinar Series. This time we will cover a wide range of topical compliance issues and present the current experience of various UNIC member companies. We invite you to subscribe to our page for closely following further announcements.
In a week, we start with a key webinar on the topic "Wartime Compliance. Task Prioritization". Two leading companies in the Ukrainian market will talk about how to ensure business stability during the war, control risks, and plan.
And also about the compliance risk management best practices, the compliance department's activities organization, and new control tools in the conditions of martial law.
DISCUSSION PARTICIPANTS:
Argoholding "Continental Farmers Group" has a strong compliance department and has significant experience of changes in crises
The Ukrainian monopolist " GTS Operator of Ukraine" will provide its compliance risk management practice, which is currently used in the company
International company KPMG promotes and updates questions for participants
WHEN: July 14, 14:00-15:00
FORMAT: interview-discussion, Zoom
Please register at: https://forms.gle/hqQS2hmK9VmyjpD19