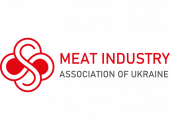 Meat Industry Association of Ukraine
Association was formed by the leading Ukrainian meat processing companies. We are united with the commitment to share experiences, find ways to solve current problems and strengthen the position of Ukrainian producers in the domestic and global markets.
Association activities:
Representation and protection of sectoral interests within legislative and executive power bodies
Adoption of transparent standards for production and sales, harmonization of local requirements with EU legislation
Livestock development as a source of primary produce for meat processing companies, the formation of economic relations with suppliers on the basis of cooperation, trust and long-term planning
Media support of the Association members, information support on the current market situation and upcoming areas of work
Opening of new markets and sales channels, etc.